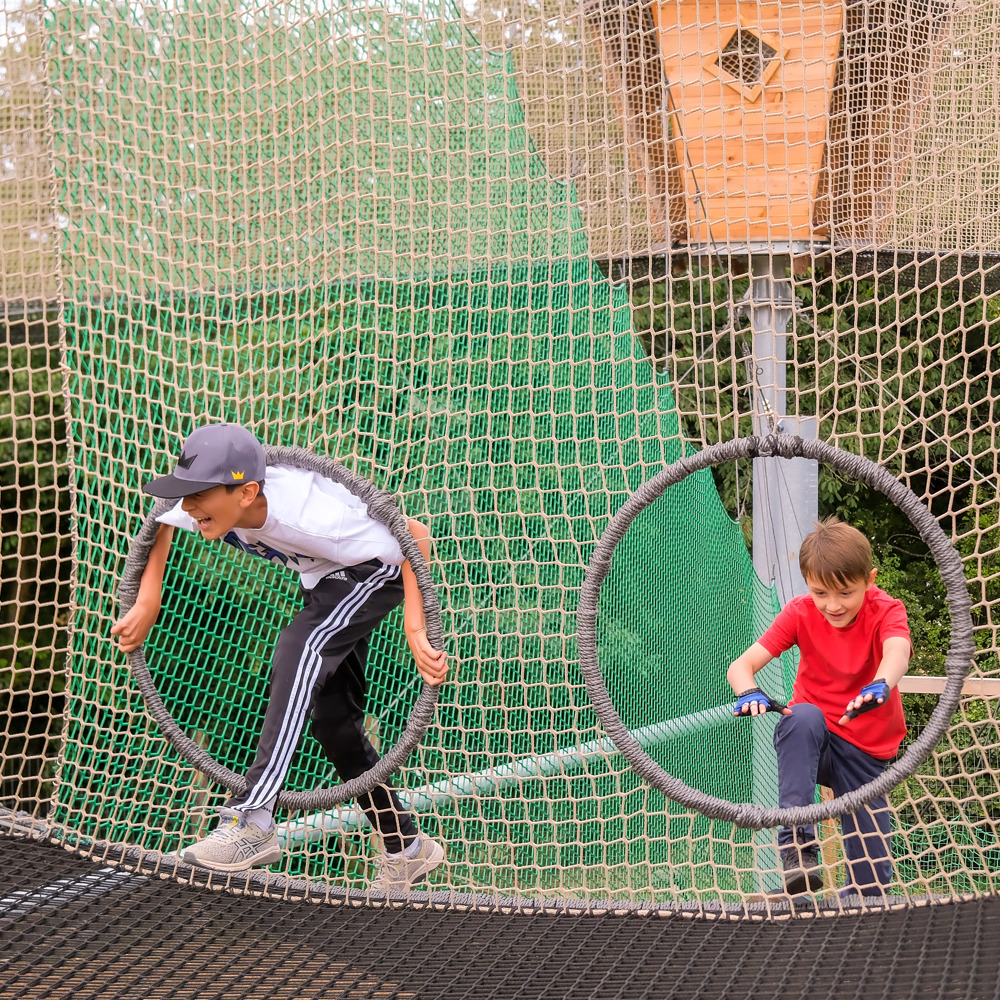 ACTIVITY INFORMATION
Minimum age
4+. Guests between 4 and 6 must be accompanied and supervised by an adult while on the net park
Safety system
None needed! Bounce to your heart's desire...
Conquer the Treetop Nets
The Gripped treetop net park is the perfect aerial adventure for all! Bounce, tumble and scramble in our huge treetop nets. Even the youngest of thrill-seekers can explore and play among these elevated large jump nets, net tunnels and slides.
With a 150m2 bounce surface available and the highest net being 6.4m, this treetop adventure is a great addition to your day that brings endless fun. As long as you're within the age and weight limitations, you're in the perfect place!
The views over Gripped and Hobbledown Heath from the pole house are incredible - do you dare to climb it? 
Wait! We've got an even better deal for you...
You can buy your activities individually - but the best-value way to visit is with our Gripped Passes!
ALL INCLUSIVE Pass
Starting from only £45 per person, the All Inclusive Pass will let you try out ALL of Gripped's activities! That's over £106 worth of value in one small ticket...
3 activity Pass
3 Activity Passes start from just £30 per person, and let you pick your top 3 Gripped challenges to take on...
Everything you need to know...
Who is it for?
Our treetop nets are perfect for anyone aged 4 and over; however, children between 4 and 6 must be supervised by an adult whilst enjoying the nets. As there is no minimum height for this activity, we encourage everyone to experience the ultimate fun of bouncing through the treetops!
The Dress Code
Comfortable, moveable clothing, and closed-toe shoes. Trainers are ideal, but your footwear should simply be comfortable, secure and have good grip. No flip-flops, sliders, sandals or high heels, please!
Long hair must be tied up and secured. No loose items are allowed on any activity – strap it all in. Avoid jewellery where possible.
Abilities, Limitations & Safety 
It is not advisable for expectant mothers to participate.
Not suitable for guests with heart conditions, high blood pressure, broken limbs and/or back/neck problems.
Guests with pre-existing medical conditions should seek medical advice before participating in this activity.
Gripped is not suitable for non-ambulant guests. All guests must be able to walk unaided in order to experience the park. Otherwise, disabled guests must have a minimum of 1 helper and a maximum of 3 helpers with them.
All guests must attend the safety briefing for their activity, and follow Team Members' instructions at all times for their own safety.
What's Involved in The Net Adventure?
Before you enter the nets, you will be given a safety briefing to ensure your safety during the activity. Following this you can then head into several layers of elevated nets with bouncy balls and areas to slide, climb and crawl through, including our polehouse that gives a great view of the heath! It's a great activity for every age group and is a fun way to burn some energy. Exit the net adventure whenever you're ready to enjoy the rest of the outdoor activity park.
Who Is It For?
Our treetop nets are perfect for anyone aged 4 and over; however, children between 4 and 6 must be supervised by an adult whilst enjoying the nets. As there is no minimum height for this activity, we encourage everyone to experience bouncing through the treetops!
Treetop nets are a fun addition to your activity day. Whether you're visiting us for a birthday party, a team-building day, a stag/hen party or just because, we're sure you'll have the best time in the nets at Gripped.
Treetop Nets Adventure in London
If you live in Hounslow, Middlesex, Surrey or are visiting any other area of London, Gripped's treetop adventure nets can help you and your kids blow off some steam at the weekend or during the school holidays. Similar to popular trampoline parks, our nets provide a safe way to explore without the need for a harness, so what are you waiting for? Book your treetop net adventure with us now!
How to Book Online
Book online easily by choosing the activities you and other participants within your group want to take part in. Simply book each activity for the day you want to come for as many people as you want to book for and securely check out online.
Location and Travel
We have visitors from all over the South East. Our location in Middlesex is not only close to London but within a stone's throw of the Surrey border. Guests can easily visit from Berkshire, Sussex, and Kent too.
You can get to Gripped via car or public transport. We have a car park on site that is free for the first 30 minutes of your trip. Following this, the cost is £1 per hour.
If you are arriving by train or tube, the nearest tube station is Hounslow Central on the Piccadilly line and the nearest train stations are Feltham and Hounslow.
For those travelling by bus, the 117 and 235 all stop right outside Gripped.
Safety Advice
When taking part in the treetop nets at Gripped, please follow our safety advice to ensure you and other guests can enjoy the activity:
Ensure you are wearing appropriate clothing. You can see what is acceptable in our dress code above.
Avoid jewellery.
Follow the safety advice in the briefing before taking part in the activity.
Accompanying adults are required for children aged 4-6
FAQs
Is It Safe?
The net adventure is 100% safe! You are enclosed in nets so there's no risk of falling.
Is It Scary
The net adventure shouldn't be scary at all, especially following the safety briefing! Enjoy jumping and tumbling in the safest environment.
Are There People to Help Me?
Yes, we have trained staff members at every activity to help you if you need it.
SIGN UP FOR NEWS AND OFFERS