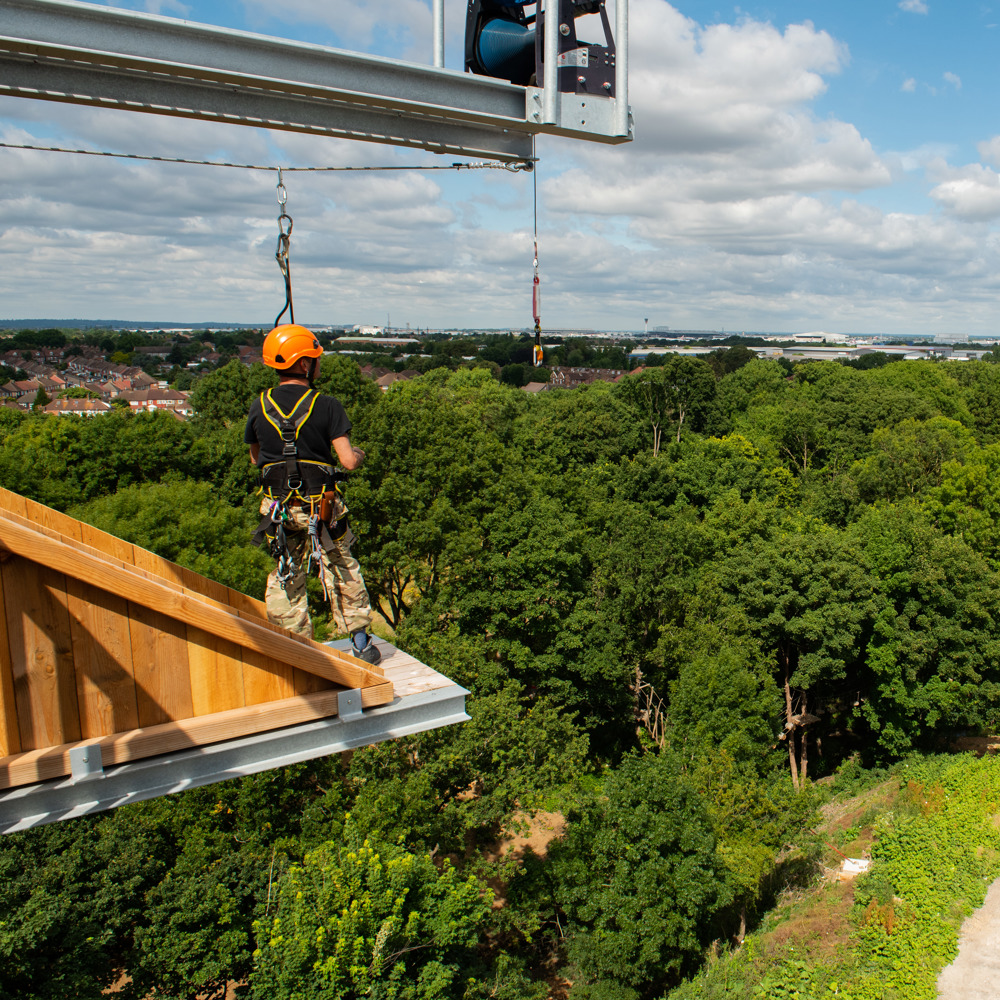 ACTIVITY INFORMATION
Weight restrictions
Min: 20kg | Max: 120kg
Age restrictions
Under 15s require a supervising adult.*
The ultimate rush
The most extreme challenge at Gripped - base-jumping without the parachute! Free-fall from the very top of a 24-metre tower attached to our gravity-defying Power Fan descender restraint system, which will use your own body weight to allow you to land softly on the ground.
Test your nerve as you step off the tower, and experience the ultimate adrenaline rush...
Read the rules, requirements and dress code
The Power Fan Descender is only available as part of the All Inclusive Pass.
Prices from £20 per person.
Wait! We've got an even better deal for you...
You can buy your activities individually - but the best-value way to visit is with a Gripped Pass!
ALL INCLUSIVE Pass
Starting from only £45 per person, the All Inclusive Pass will let you try out ALL of Gripped's activities! That's over £106 worth of value in one small ticket...
Everything you need to know...
*Age Limits & Supervising Adults
SUPERVISING ADULTS: Participants under the age of 15 require an adult to supervise them whilst on the activity.
1 adult can supervise up to 4 children on the Power Fan.
This supervising adult does not require a ticket unless they also wish to participate.
The Dress Code
SHOES: Please wear comfortable, closed-toe shoes - secure trainers with a good grip are highly recommended. No crocs, sliders, sandals or high heels, please!
CLOTHING: Athletic wear you're comfortable moving in. Skirts and dresses are not suitable for most activities. Avoid loose or dangling clothing.
HAIR: Long hair must be tied up and secured in a low style, and free from accessories. This is to allow for a helmet to be safely and securely worn.
OTHER BELONGINGS: No loose items are allowed on any activity - strap it all in! Phones and other valuables are taken up on the course with you at your own risk. Please remove rings, necklaces, bracelets and earrings before you partake in any activity.
Abilities, Limitations & Safety 
It is not advisable for expectant mothers to participate.
Not suitable for guests with heart conditions, high blood pressure, broken limbs and/or back/neck problems.
Guests with pre-existing medical conditions should seek medical advice before participating in this activity.
Gripped is not suitable for non-ambulant guests. All guests must be able to walk unaided in order to experience the park. Otherwise, disabled guests must have a minimum of 1 helper and a maximum of 3 helpers with them.
All guests must participate in the safety briefing for their activity, and follow Team Members' instructions at all times for their own safety.
What's Involved in The Power Fan Descender?
Experience a parachute jumping experience without the parachute with our fan descender! Before you climb up our 24-meter-high platform, you are fitted with a harness and a helmet and will follow a safety briefing by one of our fully trained staff. Once you're at the top of this sky-high tower, all you need to do is step off the platform and experience a mini free-fall before our restraint system lowers you down to the ground safely using your own body weight. Although this activity involves just one step, that one step is stomach-dropping!
Who Is It For?
Our power fan free-fall is for those who want to conquer their fear of heights or those who want to experience the ultimate adrenaline rush. As you step off the 24-meter tower, you're filled with a rush of emotions from fear all the way to excitement – it's not for the faint-hearted. By putting your trust in our restraint system, you can feel on top of the world as you reach the ground.
Adding the power fan jump to your Gripped itinerary is the perfect way to let off some steam. Whether you're visiting gripped as a group, as a couple or for an occasion, let us help you make the day special. Our trained staff are there to reassure you during your jump, and if you feel it's not for you, there's no judgement here. Our team will help you down if you change your mind.
Power Fan Descender in London
Experience the most adrenaline-pumping activity we have at Gripped in London. The power descender is a great activity for experiencing free-falling off of a 24-meter-high tower. Enjoy the incredible views of Hounslow Heath as you stand on the platform and fall through the air.
Our trained staff are here to help you with the power fan descender in London, so don't worry if you're a little nervous. Our staff will ensure you feel safe, or you can back out at any time.
Why Gripped?
Gripped isn't just your average high ropes course, our outdoor adventure park consists of a range of different activities, just like our power fan descender created only for the daredevils! With beautiful views over Hounslow Heath and friendly, helpful staff, this will be a day out you won't forget.
Location & Travel
Gripped is based close to the Surrey border making us accessible from London, Middlesex and Berkshire. Hounslow Heath is the perfect location for our outdoor activities due to its wide open space near London.
If you're travelling by car, we have plenty of car parking spaces available. Parking is free for up to 30 minutes and then £1 per hour after.
If travelling via public transport, the nearest tube station is Hounslow Central on the Piccadilly line and the nearest train stations are Hounslow and Feltham.
For those travelling by bus, the 117 and 235 all stop right outside the adventure park.
Safety Advice
Make sure you follow our safety advice to ensure the safety of you and other guests. This allows you to enjoy the power fan descender safely.
Ensure you are wearing appropriate clothing as listed above. You should also avoid jewellery and other loose items during your visit.
You must listen to the safety briefing for the power fan jump and follow the instructions carefully to get the most out of the activity.
FAQs
Is It Safe?
Yes, 100%. The power fan restraint system is rigorously tested and complies with all current health and safety regulations. Before you take part in the activity, you will take part in a safety briefing to ensure your full safety the entire time.
Are People There to Help Me?
At the top of the power descender tower, an experienced and trained staff member will be there to ensure you're secure in your harness before you step off the platform. They are also there to give you words of encouragement if you need them!
What If I Decide to Back Out?
No problem at all. Our staff member will guide you to climb back down the tower. If you feel you cannot go through with it, just let us know.
Is It Scary?
It can be scary standing at the top of the tower, but after your safety briefing and words of encouragement from our staff members, you'll realise there is nothing to fear! Our power fan descender activity gives the ultimate rush that you'll want to experience again and again!
SIGN UP FOR NEWS AND OFFERS